A Customized Investment Approach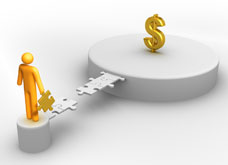 Their financial objectives
The time frame for investing
Risk tolerance and ability to tolerate drawdowns
Circumstances that might impact investment suitability
How this investment fits in their overall financial situation
The Right Investment ApproachIs One that Fits the Client
Haas Fydroski Financial Services Inc. is an Investment Adviser registered with the state of Michigan. As a registered investment adviser, we serve as a FIDUCIARY to our clients. According to The Investment Adviser Association's Standards of Practice, "As a fiduciary, an investment advisor has an affirmative duty of care, loyalty, honesty and good faith to act in the best interests of its clients."
As a fiduciary, we believe it is essential to take an active approach to managing our client's portfolios. Our focus is that of a discretionary manager. In discretionary investment management, the client authorizes a portfolio manager to make buy-and-sell decisions without referring to the account holder. These decisions must, however, be made within agreed upon limits. The client's investment policy statement, which we develop together at the start of every investment relationship, governs our ability to invest defensively or opportunistically on the client's behalf.
Investment recommendations are based on knowing the client. A portfolio may consist of mutual funds, Exchange Traded Funds, individual securities and appropriate insurance-based products. When our investment analysis indicates that the market may be in a significant decline, we will reposition portfolios to protect client assets.
With that said, all investments have the potential for loss as well as gain.Past performance is not indicative of future returns. There can be no guarantee that an active investment approach will reduce risk or result in competitive returns. Without active management, however, losses to bear markets are inevitable.
Our Duty as a Fiduciary
At all times place the interests of clients first;
Have a reasonable basis for our investment advice;
Make investment decisions consistent with any mutually agreed upon client objectives, strategies, policies, guidelines and restrictions;
Treat clients fairly;
Seek best execution for clients' securities transactions where Haas Fydroski, as the advisor, directs such transactions;
Make full and fair disclosure to clients of all material facts about the advisory relationship, particularly regarding conflicts of interest; and
Respect the confidentiality of client information.